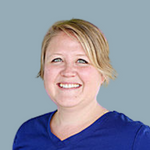 Angie Becerra
Angie Becerra
Dr. Angie Becerra felt a calling to become a chiropractor after being faced with a number of health problems in her early twenties. She was frustrated with the allopathic medical system not having the answers she needed so she turned to a Doctor of Chiropractic. Through vitalistic chiropractic care she was able to get off all her medications and live a normal, active, healthy lifestyle.
Dr. Angie graduated from Parker University where she focused her studies to better serve pregnant women and children in her community. She is a member of the International Chiropractic Pediatric Association and is Webster Technique Certified. Dr. Angie is also knowledgeable in soft tissue techniques, dry needling, and functional taping that are beneficial to athletes and people with repetitive stress injuries.
In her free time, Dr. Angie enjoys running, working out, kayaking, and watching sports with her family.
Contact Listings Owner Form
Other Info
2795 Bulverde Rd Bulverde TX 78163 United States