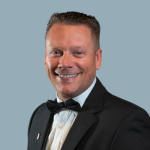 Dr. Chad Carpenter
Dr. Chad Carpenter
Dr. Chad Carpenter graduated high school in Big Spring, Texas, and immediately began college. He did his undergrad studies at Howard College and Northlake before his acceptance to Parker University. In 1999 he graduated from Parker University with a Bachelors's in Anatomy and a Doctor of Chiropractic.
He met his wife, Dr. Kerri Carpenter, halfway through his studies at Parker University, and they married in 1998. He and his wife opened their first practice in Comfort, Texas, in 1999 and Boerne in 2001. They have three sons, Rhett, Chance, and Gunner, and reside in Sisterdale, Texas. They have been a very active part of youth ministry and have spent years doing bible studies in their home and in their community. Their oldest, Rhett, is married and in college in College Station. Dr. Chad has spent his career serving in many organizations. His first was serving as the Comfort Chamber of Commerce as President. He then joined the Texas Chiropractic Association, where he eventually took on the responsibility of serving on the Texas Chiropractic Association board as District 10 state director.
In 2016 his father-in-law passed away, and Dr. Carpenter was appointed to fill his vacancy as Kendall County Commissioner for the remaining year. Also, in 2016 he was asked to serve a higher position with the Texas Chiropractic Association and spent the next three years going through the different executive-level positions of Secretary/Treasurer, Vice President, and then President. After completing his term as President of the Texas Chiropractic Association he was immediately elected to serve on the Board of ChiroCongress. In 2022 Dr. Carpenter was elected as Kendall County Commissioner, sworn in effective January 1, 2023, and is currently serving in this position.
From the beginning, Dr. Chad Carpenter has been fighting for healthcare freedom in Texas and Washington, DC. He often visits the Texas Capital and the United States Capital to fight for veterans' rights to have Chiropractic care readily available for active military and retired. His efforts and a select few worked countless hours to pass legislative bills to force changes to opioid prescriptions and many other vital concerns. Some of his greatest leadership successes were taking on the Texas Medical Board when they tried to deny chiropractors the right to diagnose. This fight went all the way to the Texas Supreme Court during his presidency. We won this fight. He loves preserving healthcare freedom and wants chiropractic to be available to everyone without limits.
Contact Listings Owner Form
Other Info
7131 I-10 #400, Boerne, TX 77521, USA