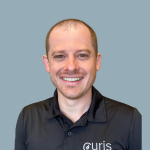 Dr. Nicholas J. Swickard
Dr. Nicholas J. Swickard
Dr. Nicholas Swickard is a chiropractor at Curis Functional Health. He was born and raised in the Kansas City metro area and graduated from Kansas State University in 2015. He then continued his education at Cleveland University - Kansas City, receiving his Doctor of Chiropractic degree in 2019. Dr. Swickard is married to Emily, and they have been living and working in the area they both grew up in since 2015.
Dr. Swickard has been under chiropractic care his entire life, and is proud to say he is a third-generation chiropractor. Growing up, he was active in youth sports, which led to an interest in how the body moves and performs in different environments. For Dr. Swickard, pursuing a career as a chiropractor was a natural fit. He has always appreciated the holistic aspect of chiropractic because it empowers patients to be active participants in their health.
Dr. Swickard believes that when we move well and often, eat a sensible diet, and look after our mental well-being, the risk of suffering from chronic disease is reduced dramatically. He is passionate about helping people improve their quality of life and believes that chiropractic care can play a vital role in that.
When Dr. Swickard is not in the office, he enjoys spending time with friends and family, training Brazilian Jiu-Jitsu, or getting outside and enjoying the natural landscape.
Contact Listings Owner Form
Other Info
15050 Antioch Rd suite 102, Overland Park, KS 66221, USA