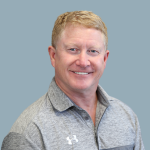 Dr. Phillip Wade Paul
Dr. Phillip Wade Paul
Phillip Paul grew up in a small farming town in the Texas Panhandle as number 4 of 6 children. He graduated from Spearman High School and attended West Texas State University before discovering his passion and enrolling in Parker College of Chiropractic.
Dr. Paul completed his Doctorate of Chiropractic in August of 1994 and began his Chiropractic career in historic downtown Royse City, Texas, in March 1995.
Aside from his expertise in chiropractic care, with specialized training in extremity care, Dr. Paul was an active member of the Royse City community in many ways. For over 23 years, Royse City Senior Citizens were treated to a Thanksgiving Luncheon, which served on average 100-150 meals, founded and annually supported by Dr. Paul and the various contributors in the community. This is only one example of Dr. Paul spreading his joy by helping others find their own. The luncheon was held on the Friday before Thanksgiving.
When unable to be of direct support, Dr. Paul found alternative ways to give, such as being able to purchase and donate the first Automatic External Defibrillator (AED) to the Royse City Police Department in the Spring of 2000. Three Royse City citizens' lives were saved within the first three months of service.
In a deliberate effort to volunteer his expertise with young athletes, Dr. Paul was an RCISD Athletic Sports Healthcare Team member. Dr. Paul could be found volunteering many Friday nights on the sidelines of both home and away Royse City Bulldog football games, supporting both body and spirit of team members. He served on the Board of the Royse City Youth Sports Association. Dr. Paul participated in the Breakfast of Champions Mentoring Program with the Royse City High School Bulldogs Football Team.
When other opportunities arose, such as the fundraising campaign for the Walker-Hawk Sports Facility, Dr. Paul was there to support them. In addition to sports activities, Dr. Paul participated in fundraising events for the Susan Komen Foundation. He has served his community through his involvement with many of the strategic planning committees for the Royse City Chamber of Commerce and, more recently, with Royse City Independent School District.
Dr. Paul has received many awards for his community service. Dr. Paul is a Paul Harris Fellow Rotarian, a past Rockwall Noon and Royse City Early Bird Rotary Clubs member, and the Past President of the Royse City Early Bird Rotary Club.
When Dr. Paul has downtime, he loves peaceful outdoor activities such as scuba diving, relaxing on a lovely quiet beach, and spending quality time with his two daughters, four grandchildren, and friends.
Contact Listings Owner Form
Other Info
2824 Terrell Rd #204, Greenville, TX 75402, USA