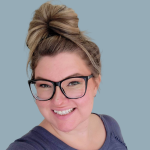 Samantha Norton
Samantha Norton
Samantha Norton is a dedicated Mental Health Therapist based in Overland Park. Her deep-rooted passion lies in empowering individuals and giving them the tools to lead an authentic life. Recognized for her solution-focused (SFT) and cognitive behavioral (CBT) approach, Samantha is adept at navigating the complexities of relationships and meticulously addresses the root issues that hamper strong connections.
Every voice matters and every existence holds value - this belief forms the foundation of Samantha's therapeutic approach. She sees therapy as a crucial opportunity for individuals to introspect and focus on their personal well-being. Samantha's client-centered approach is characterized by meeting individuals wherever they are on their mental health journey, making her services accessible to many clients in Overland Park.
With her profound expertise in mental health and therapeutic interventions, Samantha Norton is committed to providing excellent mental health services in Overland Park, significantly contributing to the community's overall well-being. Her areas of proficiency include cognitive behavioral therapy (CBT), solutions-focused therapy (SFT), and relationship dynamics, making her an integral part of mental health therapy in Overland Park.
Through her practice, Samantha emphasizes the power of therapy in providing a space for self-focus and self-improvement, thus establishing her as a leader in her field and a beacon of support for those seeking mental health resources in Overland Park.
Contact Listings Owner Form
Other Info
15050 Antioch Rd, Overland Park, KS 66221, USA