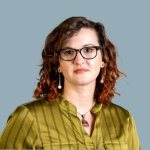 Sarah Okun
Sarah Okun
Sarah is a licensed specialist clinical social worker (LSCSW) Kansas.
With an MBA in Finance, Sarah spent 15 years working her way up the corporate ladder and into the throes of upper management at multi-million dollar companies. Chronic stress, burnout, and frustration with the corporate culture led to a mid-life career change. 2018 Sarah returned to school to obtain her MSW at the University of Kansas.
Sarah has, most recently, worked as an inpatient residential psychotherapist using TF-CBT in her work with those experiencing PTSD, trauma, sexual abuse, and relationship issues. Sarah believes that people can take back their autonomy and find their balance by moving through unhelpful patterns of the past. Through her holistic, trauma-informed, and direct approach, she will provide you with tools to help you uncover those patterns, shift out of survival mode and get back into the driver seat on your journey to wellness.
Sarah lives in Kansas City, KS with her partner and senior dog. They spend their free time rummaging estate sales, hosting gatherings, hiking, and traveling in their RV.
Contact Listings Owner Form
Other Info
9150 Glenwood St, Overland Park, KS 66212, USA